Airlift Marble Antifatigue Floormat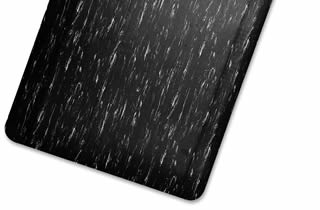 Please Note: Please call for a customized shipping quote when ordering more than one of this product.
Please Note: Customers outside the continental U.S. or at an APO/FPO Box please call for a customized shipping quote prior to ordering.
AirLift Marble Plus mats are constructed of marbleized vinyl with a sponge base which provides long-lasting worker comfort. This is an attractive and durable anti-fatigue mat for dry commercial or industrial work environments. Combines our AirLift cushion with a thick marbleized vinyl top. Offers a professional marble appearance. The smooth surface is easy for workers to pivot on and is easily swept clean, providing a low cost maintenance solution. Perfect for labratories, medical facilities, warehouse environments, chemical areas and more.
Construction: Marbleized Vinyl / Antifaigue Cushion
Product Height: 1/2"
Production Time: 5-7 Business Days
Who Should Buy This Mat ? This mat is designed for working professionals who are required to stand for extended periods of time throughout the day. Appearance, durability and easy maintenance are of importance.