Airlift Service Pro Edition Antifatigue Floormat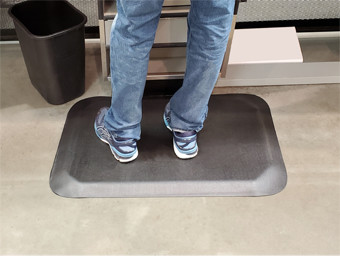 Please Note: Please call for a customized shipping quote when ordering more than one of this product.
Please Note: Customers outside the continental U.S. or at an APO/FPO Box please call for a customized shipping quote prior to ordering.
An ideal anti-fatigue safety mat for commercial & retail customer service areas. AirLift ServicePro Mats feature a durable, textured or smooth surface of bonded to a moisture resistant, closed-cell vinyl foam cushioning. Extra comfortable 1/2" or 3/4" overall thickness. Beveled surface edges and rounded corners enable smooth floor to mat surface transitions. Lifetime warranty for surface delamination. Two year warranty for manufacturing defects.
Please Note: There is a 4 peice order minimum for this mat.
Construction: Closed-Cell Foam / Solid Vinyl Surface
Product Height: 1/2" or 3/4"
Production Time: 2 to 3 Weeks.
Who Should Buy This Mat ? These anti-fatigue floormats are suitable for any commercial, professional or retail are where workers stand and move about for prolonged periods of time. Provides maximum comfort and durability for those tasked with standing to serve customers.