ToughTop All-Purpose Customized Logo Mat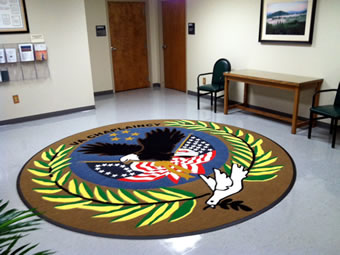 Please Note: Customers outside the continental U.S. or at an APO/FPO Box please call for a customized shipping quote prior to ordering.
These logo mats / rugs are superior in quality & construction to comparable products you may see listed online such as Super Berber, or Champion Super Nop.
ToughTop Premium Grade Custom Logo Mats / Rugs are our best-selling, all-purpose customized mats / rugs for year round indoor or outdoor use in high traffic commercial, industrial or residential settings. These mats / rugs are able to withstand the rigors of demanding weather and climates while protecting your floors. One aspect which makes ToughTop unique among other logo mats is how your logo is created. Each peice of your logo is laser cut from wear-resitant solution dyed material and then permananently inlaid into the surface using construction grade epoxy adhesive. This precision manufacturing process allows us to create your customized mats / rugs with exceptional image definition and clarity for a first-class presentation. Because each piece of your logo is individually set into the mat surface it will not fade, wear off or disappear over time. Also if you've got a unique space which requires a mat of a non-standard dimension we are able to custom cut practically any shape imaginable. Industrial rubber backing is guaranteed to lay flat and will not crack or curl. This floormat is ADA Compliant. This Mat / Rug can be cut to Any Size or Any Shape.
Construction: Needle-Punched Polypropylene
Backing: Rubber
Fabric Weight: 54 oz
Product Height: 3/8"
Production Time: 10-14 Business Days.
Who Should Buy This Mat / Rug? You need a world-class custom logo mat / rug for interior or exterior commercial, industrial or residential use. You're concerned with crisp image presentation, exceptional performance, ease of maintenance & oustanding durability. You want the best logo mat / rug that we offer!
Please Note: If your logo is complex and not able to be produced on this mat you may need to choose our ToughTop Inset Graphics variation of this mat.
Logo Database: Click To Search Our Logo Database

True Red PMS: 192c

Cinnamon PMS: 7623c

Red Berry PMS: 484c

Merlot PMS: 209c

Bordeaux PMS: 7645c

Carnation PMS: 1905c

Marigold PMS: 144c

Cadmium Yellow PMS: 121c

Nugget Gold PMS: 7563c

Baby Blue PMS: 291c

Powder Blue PMS: 309u

Sapphire PMS: 285c
Military Blue PMS: 540c

Denim PMS: 534c

Academy Blue PMS: 7546c

Multi PMS: 295c

Emperors Purple PMS: 51-1-7c

Native Turquoise PMS: 325c

Spring Green PMS: 356c

Fern Green PMS: 371u

Loden Green PMS: 350c

Hunter Green PMS: 342c

Foliage Multi PMS: 404c

MultiGreen PMS: Black5c

Sandstone PMS: 4665c

Antique Bronze PMS: 467c

Khaki PMS: 7530c

Driftwood PMS: 7554c

Cigar Brown PMS: 140c

Fawn PMS: 408c

Mahogany PMS: 7589c

Burnt Umber PMS: 7596c

Acorn Brown PMS: 7519c

Wood Grain PMS: 412c

Battleship Grey PMS: 430c

Led Grey PMS: Cool Grey 11c

Two Tone Black PMS: Black 7

Black Heather PMS: Black 6c

Black PMS: Black

Charcoal PMS: Cool Grey 11c

Carrot Orange PMS: 173c

Aspen White PMS: White