Airlift Static Guard Antifatigue Floormat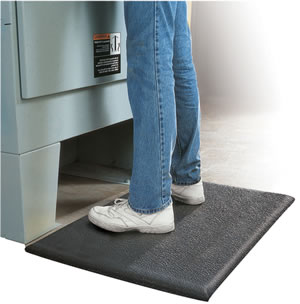 REVISED.
Ergonomically styled anti-fatigue matting designed to provide comfort and relief for aching feet and legs. Great to use in areas to prevent damage from static electricity. 100% Closed Cell PVC Foam. Beveled Edges for increased safety. Material can easily be cut to accomodate any work area as needed. Optional 15' Grounding cord available for optimal results.
Construction: Closed-Cell PVC Foam
Product Height: 3/8"
Production Time: 7-10 Business Days
Who Should Buy This Mat ? You need a general purpose antifatigue mat which provides a measure of resistance to the damaging effects of static electricity. If needed, you require a product which can easily be cut to accomodate the irregular shape of your work area.
Please Note: Customers outside the continental U.S. or at an APO Box please call for a customized shipping quote.