Airlift Plus Spark Shield Antifatigue Floormat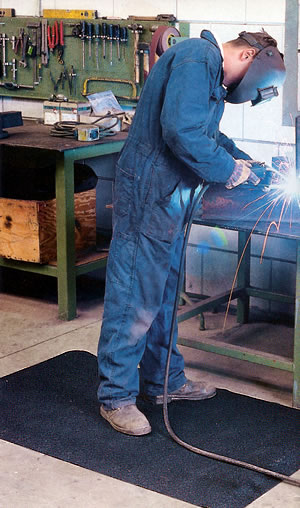 Please Note: Please call for a customized shipping quote when ordering more than one of this product.
Please Note: Customers outside the continental U.S. or at an APO/FPO Box please call for a customized shipping quote prior to ordering.
Rubber surface repels sparks. Increased slip-resistant textured top surface. 1/2" Overall Thickness. 3/8" Closed-cell PVC foam base bonded to a 1/8" solid nitrile rubber surface provides all day relief from fatigue. Wear surface will resist common fluids, most chemicals and is nonflammable. Fabric laminated underside top surface provides more tear-resistance and dimensional stability. Recommended for welding & grinding work cells, industrial work cells, service counters, assembly lines and more.
Construction: Rubber / Foam
Product Height: 1/2"
Production Time: 7-10 Business Days
Who Should Buy This Mat ? You require a spark resistant, welding safe surface for prolonged standing in industrial and commercial work areas.