SafetyZone Industrial Grease Proof Work Safety Mat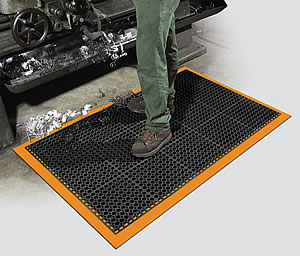 Please Note: Please call for a customized shipping quote when ordering more than one of this product.
Please Note: Customers outside the continental U.S. or at an APO/FPO Box please call for a customized shipping quote prior to ordering.
Heavy Duty 7/8" construction with durable, beveled borders. Colored borders for increased safety awareness. Anti-fatigue matting provides cushion and support for wet, greasy and dry environments. Base mat made from grease-resistant black rubber. Elevated construction allows fluids to drain away from work areas. Safety Zone Striped comes with a 3 year limited warranty. Recommended for Oily, greasy industrial workstations, Bar and Kitchen wet areas, Food processing work stations. Custom configurations are available.
Super Tough Safety Tru-Tread mat is available with a durable, abrasive GritTuff surface for increased traction in wet areas. Available in Black/ Yellow & Black / Orange only.
Construction: Rubber / Carbide Grit
Product Height: 7/8"
Production Time: 7-10 Business Days.
Who Should Buy This Mat ? Your industrial commercial workplace requires an extra heavy duty traction mat for areas where grease, oil & chemicals are present. You require the extra visibility provided by OSHA approved safety colored borders.