Airlift Service Pro Edition Antifatigue Floormat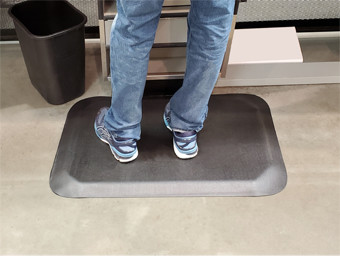 This Item Ships Free Within The Continental U.S.
Customers Outside The Continental U.S. Or At An APO/FPO Box Click Here To Submit Your Info For A Shipping Quote On This Product.
An ideal anti-fatigue safety mat for commercial & retail customer service areas. AirLift ServicePro Mats feature a durable, textured or smooth surface of bonded to a moisture resistant, closed-cell vinyl foam cushioning. Extra comfortable 1/2" or 3/4" overall thickness. Beveled surface edges and rounded corners enable smooth floor to mat surface transitions. Lifetime warranty for surface delamination. Two year warranty for manufacturing defects.
Please Note: There is a 4 peice order minimum for this mat.
Construction: Closed-Cell Foam / Solid Vinyl Surface
Product Height: 1/2" or 3/4"
Production Time: 2 to 3 Weeks.