Custom Retirement Plaques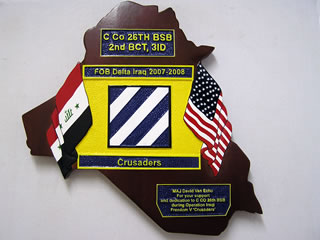 Hand-carved, hand-decorated mahogany wood retirement plaques are a great way to boost morale, establish a prescence and get your message across in exquisite detail. We can create your custom retirement plaque from 10" up to 72" in any design or shape including badges, crests, patches etc. We always use only the finest grade mahogany wood which is preciscion sculpted and professionaly dried to ensure your plaque looks great and is free of defects. All emblems, insignias, logos and lettering are hand carved and hand painted in wood. We will never use decals, colored tin plates or plastic. We do not charge set up or design fees and there is no minimum order quantity. These decorative retirement plaques are excellent for federal and state government agencies, military units, police and fire departments, educational facilities and more.
Please Note: Please email for a customized shipping quote prior to ordering.

Cherry

Dark Mahogany

Oak

No Finish

Light Mahogany

Silver

Gold