BlackTop Antislip Runner Matting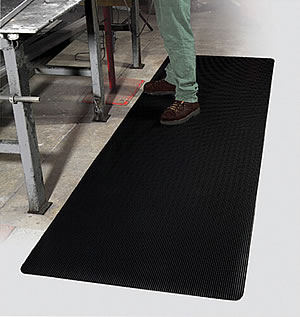 This Item Ships Free Within The Continental U.S.
Customers Outside The Continental U.S. Or At An APO/FPO Box Click Here To Submit Your Info For A Shipping Quote On This Product.
General-purpose 1/8" PVC runner matting offering complete protection for all surfaces in a safe, non-skid, easy to clean product. Corrugated or wide rib surface patterns improve safety with increased traction. Protects floors reducing maintenance costs. Flexible 100% PVC compound resists grease, oil and other common chemicals. Recommended for walkways, aisles or any commercial industrial work area that requires worker safety and increased traction. Choose from a variety of surface patterns that prevent dirt & debris from clogging the surface.
Construction: Solid PVC Vinyl
Product Height: 1/8"
Production Time: 7-10 Business Days
Please Note: Customers outside the continental U.S. or at an APO/FPO Box please call for a customized shipping quote prior to ordering.