Carpet Mat Crunch Commercial Entrance Mat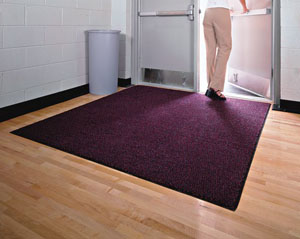 This Item Ships Free Within The Continental U.S.
Customers Outside The Continental U.S. Or At An APO/FPO Box Click Here To Submit Your Info For A Shipping Quote On This Product.
The Carpet Mat Crunch mats unites high twist solution dyed nylon fiber with abrasive solution dyed fibers resulting in a mat with excellent wiping and scraping features. The solution dyed nylon fiber is also highly resistant to fading to UV exposure. Extra course solution dyed fibers in combination with traditional solution-dyed fibers create excellent scraping and wiping action for maximum soil stopping action. Solution dyed yarn is easy to clean. Just rinse with soap and water. You may even use bleach on heavy oil areas to help remove stains. High twist and heat-set static-dissipative nylon yarn makes Carpet Mat Crunch safe to use around sensitive electronic equipment. Also available with oil and grease resistant 100% Nitrile Rubber backing when application calls for additional protection. Green friendly rubber backing has 10-15% recycled content and is available in smooth and cleated backing types. Intricate tweed-color pattern help hide soil. LUTRADOR primary substrate creates a strong bond between the rubber and carpet. All Carpet Mat Crunch mats are certified slip resistant by the National Floor Safety Institute.
Construction: Solution Dyed Nylon
Backing: Rubber Fabric Weight: 30 oz
Product Height: 3/8"
Production Time: 5-7 Business Days.
Please Note: In the manufacturing process of this floormat a great deal of heat is used to adhere the backing of the mat to the surface material, as a result the mat will usually be slightly smaller than the specific dimensions listed below. For instance a 3' x 4' floormat will usually finish off 33" x 44" rather than an exact 36" x 48". Typical shrinkage is 3 - 5% of the overall size of the mat.