Carpet Mat Pro Entry Mat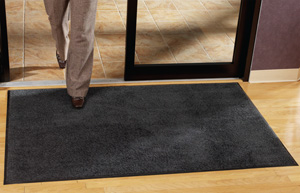 This Item Ships Free Within The Continental U.S.
Customers Outside The Continental U.S. Or At An APO/FPO Box Click Here To Submit Your Info For A Shipping Quote On This Product.
Click To View Shrinkage Chart: In the manufacturing process of this floormat heat is used to adhere the backing of the mat to the surface material, as a result the mat will usually be slightly smaller than the specific dimensions listed below. Typical shrinkage is 3 - 5% of the overall size of the mat.
Please Note: This mat is non-refundable.
Backed with 100% rubber for long lasting performance, these mats are both beautiful and durable. Available in a wide variety of colors and color patterns, there is sure to be an option that fits your décor. Lush, solution dyed, nylon carpet covers these mats, trapping dust and moisture below the surface as traffic enters your building. These mats are simple to clean also, just vacuum, use a carpet cleaner or commercially wash. Available in smooth backing for hard surfaces or gripper backing for carpeted surfaces. Ideal for interiors in any business. Prevent slip and fall accidents and protect carpets and floors from damaging dirt and moisture. Heavy 100% static dissipative nylon offers outstanding absorption and durability. Solid rubber backing will lay flat and will not crack or curl in all types of weather. Available in custom sizes in 3 ft., 4 ft., and 6 ft. widths, and long runners up to 20 ft. in length. For longer lengths, call for availability.
Construction: Solution Dyed Nylon
Backing: Rubber Fabric Weight: 24 oz
Product Height: - 3/8"
Production Time: 5-7 Business Days.

Green

Blue

Red/Black

Brown

Black

Grey