FloorGuard Standard Commercial Entrance Mat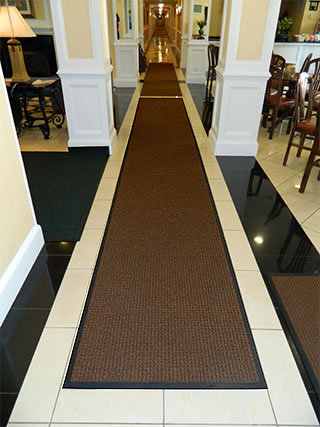 This Item Ships Free Within The Continental U.S.
Customers Outside The Continental U.S. Or At An APO/FPO Box Click Here To Submit Your Info For A Shipping Quote On This Product.
This Entrance Mat protects floors from the elements, trapping dirt and moisture on contact. 100% rubber backing provides maximum durability, while the needle-punched polypropelene fiber scrapes shoes of dirt and debris. Each ridge of the mat is reinforced with rubber, keeping the scraping tips rigid enough to withstand high traffic areas. A rubber cleated backing provides stability and water aeration. Bristles scrape dirt and debris off shoes. Dirt and water are trapped by polypropelene carpet ridges. 100% rubber construction for maximum durability. Recommended as an indoor mat, but substitutes as an outdoor mat in covered entry ways or warm to moderate climates. Bi Level construction traps dirt and moisture, retaining it to the base of the mat and off your floors. Simple to clean, just vacuum or hose and dry.
Construction: Needle Punched Polypropylene
Backing: SBR Rubber
Fabric Weight: 24 oz
Product Height: 3/8"
Production Time: 5-7 Business Days.
Please Note: In the manufacturing process of this floormat a great deal of heat is used to adhere the backing of the mat to the surface material, as a result the mat will usually be slightly smaller than the specific dimensions listed below. For instance a 3' x 4' floormat will usually finish off 33" x 44" rather than an exact 36" x 48". Typical shrinkage is 3 - 5% of the overall size of the mat.

Charcoal

Red

Blue

Grey

Green

Burgundy

Brown

Navy