Frontline Cleanstep Commercial Entrance Mat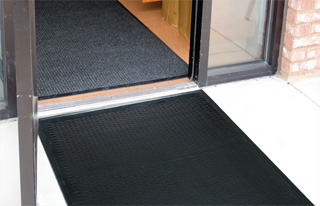 This Item Ships Free Within The Continental U.S.
Customers Outside The Continental U.S. Or At An APO/FPO Box Click Here To Submit Your Info For A Shipping Quote On This Product.
Ideal for any outside entryway, the superior molded tread aggresively scrapes shoes clean of dirt and grime, and traps it to the base of the mat. Made of 100% rubber, these strong scraper mats are a perfect first step for any floor protection system. Suggested usage includes even the most heavily trafficked entrance ways, Industrial Production Areas, break rooms, Commercial Kitchens, vending areas, water fountains, ice machines & more. Traps dirt and moisture below walking surface. All rubber construction for maximum durability. Textured backing keeps mat in place. Beveled edges for additional safety and prevention of slips and falls. Made from approximately 50% recycled rubber. Easy to clean, just hose off and dry or commercial wash.
Product Height: + 3/8"
Production Time: 5-7 Business Days.