MasterClean Commercial Entrance Brush Mat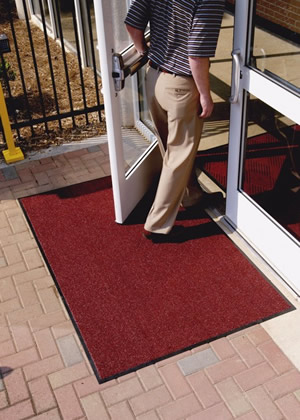 This Item Ships Free Within The Continental U.S.
Customers Outside The Continental U.S. Or At An APO/FPO Box Click Here To Submit Your Info For A Shipping Quote On This Product.
Attractive and durable outdoor mat. The MasterClean is constructed of coarse nylon fiber similar to that used on outdoor athletic fields. The tufted surface is designed to filter dirt and moisture away from the traffic surface to prevent it from entering the building, while providing a safe walking surface. Available in four striking colors, the BrushHog's non-skid rubber backing contains 20% recycled rubber content. Rubber Border - 19 Standard Sizes - Solution Dyed - Custom Sizes Up To 60' Long. Not recommended for areas exposed to grease or other petroleum products.
Construction: Coarse Solution Dyed Nylon
Backing: SBR Rubber
Product Height: 1/2"
Production Time: 5-7 Business Days.
Please Note: In the manufacturing process of this floormat a great deal of heat is used to adhere the backing of the mat to the surface material, as a result the mat will usually be slightly smaller than the specific dimensions listed below. For instance a 3' x 4' floormat will usually finish off 33" x 44" rather than an exact 36" x 48". Typical shrinkage is 3 - 5% of the overall size of the mat.
A ) High performance, 100% solution dyed nylon face won't fade in sunlight. B ) Turf pile fabric construction filters dirt and moisture away from the mat surface. C ) 100% premium rubber backing will not crack or curl. D ) Green friendly rubber backing has 10-15% recycled rubber content and is available in smooth or cleated backing types. Flat rubber border allows moisture to run off all sides