Custom Made Tradeshow Rug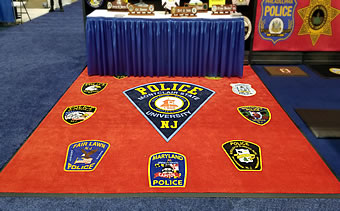 Click For Instructions: How To Order This Logo Mat.
Free Shipping: Within The Continental U.S.
Click For Shipping Quote: Customers Outside The Continental US, Customers At APO-FPO Boxes.
A customized tradeshow rug of tremendous quality & detail that's ideal for exhibit applications where visual presentation is of importance. These outstanding Logo Rugs are created using the highest grade dye injection technology creating crisp, intricate images with outstanding color shading. Advanced dye injection technology has full penetration into the carpet making your custom logo carpet colorfast and fade resistant. Latex backing helps keep the mat in place. The professionally surged edge on this Logo Rug provides a neat finished look.
Colors are matched as closely as possible to the PMS color value system as specified by the customer. We will do our very best to match a PMS color while producing our mats however, color matching can be challenging. Although we can get very close, color is never an exact science and variations will occur. Typically, we can get close to most PMS colors, but the final color may be a few shades off. In order for the PMS color to be as close as possible, we require additional time to create the proof sketch.
Please Note: Colors are approximate. Due to variation in monitors, printers, and light source, we cannot guarantee that the colors in your image will be an exact match to your colors. Due to the limitations of printing technology on carpet, Pantone and other specified colors are matched as close as possible. If specific colors are not provided, images are printed "as-is" and the computer matches as close as it can, therefore, we will not be held responsible for the final product. Also we cannot guarantee the print clarity of any images or logo elements that are 2 inches or smaller.
Please Note: This mat requires additional time to produce as it is created in two seperate steps.
PMS Color Chips: For this mat you will need to choose your colors from the Pantone Color Matching System.
> Click to view available PMS colors.
Logo Database: Click To Search Our Logo Database