SuperVinyl HD Custom Logo Mat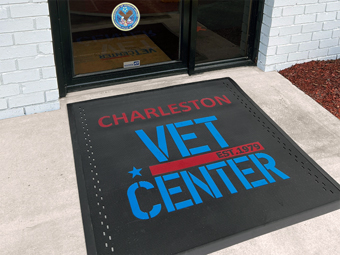 Instructions: How To Order This Logo Mat.
This Item Ships Free Within The Continental U.S.
Click For Shipping Quote: Customers Outside The Continental US, Customers At APO-FPO Boxes.
Vinyl Link / HD Super Vinyl are the new standard for durable tough as nails outdoor logo matting. No longer do high traffic areas have to compromise image quality for durability and performance in extreme outdoor climates. These mats utilize an aggressive ridged design that effectively cleans debris and prevents water and grime from reaching indoors. This aggressive wiping surface made from durable PVC vinyl, offered in a wide array of colors, allows us to offer the best entrance mat for extreme climates in high demand areas. UV stabilized to resist fading. Graphics are cut and inlaid, not printed so the image lasts for the life of the mat. Unibody construction eliminates the pixilated look of the outdated link mats offered by our competitors. Graphics are much higher quality allowing for greater detail and a superior image presentation. Our next generation production process eliminates the need for cumbersome steel rods that eventually rust and become problematic. Custom Sizes are available up to 12' wide & 20' long. Free lay installation complete with reducer edging is fully ADA compliant Recessed installation w/ a finished height of 3/8". Made in the USA. Five Year warranty against manufacturing defects.
These mats are suited for aggresive all-weather outdoor use in every type of demanding climate: wet, dry, cold or hot. They are extremely rugged, allowing for greatly extended product life even with the most heavy duty usage patterns. If you are looking to buy a custom logo mat that will last for a decade or more of continuous usage then this is definitely the right mat to choose. You can rest assured, these vibrant logo mats are truly built to last.
Construction: Vinyl
Product Height: 7/16"
Production Time: 3-4 weeks
Logo Database: Click To Search Our Logo Database

Beige

Black

Brown

Dark Blue

Dark Green

Burgundy

Gold

Grey

Light Blue

Light Green

Orange

Purple

Red

Tru Blue

White

Yellow